When my husband, Jack, started ski racing four winters ago, we selected the Molecule F/Don Brooks Memorial masters races at Schweitzer Mountain, Idaho, as one of the four events we would attend. It seemed a good way to get a lot of starts in one trip. That year, Schweitzer hosted four super Gs in two days, followed by two giant slaloms — six races in four days.
After my first super G run, I nervously held my breath as Jack left the start, dropped into a tuck and disappeared around the bend. When the next racer started without fuss, I exhaled, relieved that Jack had finished. A former downhiller on the U.S. Ski Team with two gold medals from the FIS Masters Criterium (world championships) on my mantel, I've long favored speed events, but I also know how dangerous traveling more than 60 miles an hour down a slope can be.
"That was great!" Jack exclaimed when I caught up with him after the race. His eyes twinkled. He had caught the speed bug and proclaimed that going really fast was his favorite part of skiing. We've traveled to Schweitzer for the super G every year, as well as other speed events. We often talk of spending a winter following the Molecule F circuit, going as fast as possible at masters speed events throughout the U.S. But not every masters racer is comfortable putting the pedal down on a super G (or downhill) course, and some who do are often puzzled why their times aren't faster. Here are 10 tips to help get you up to speed: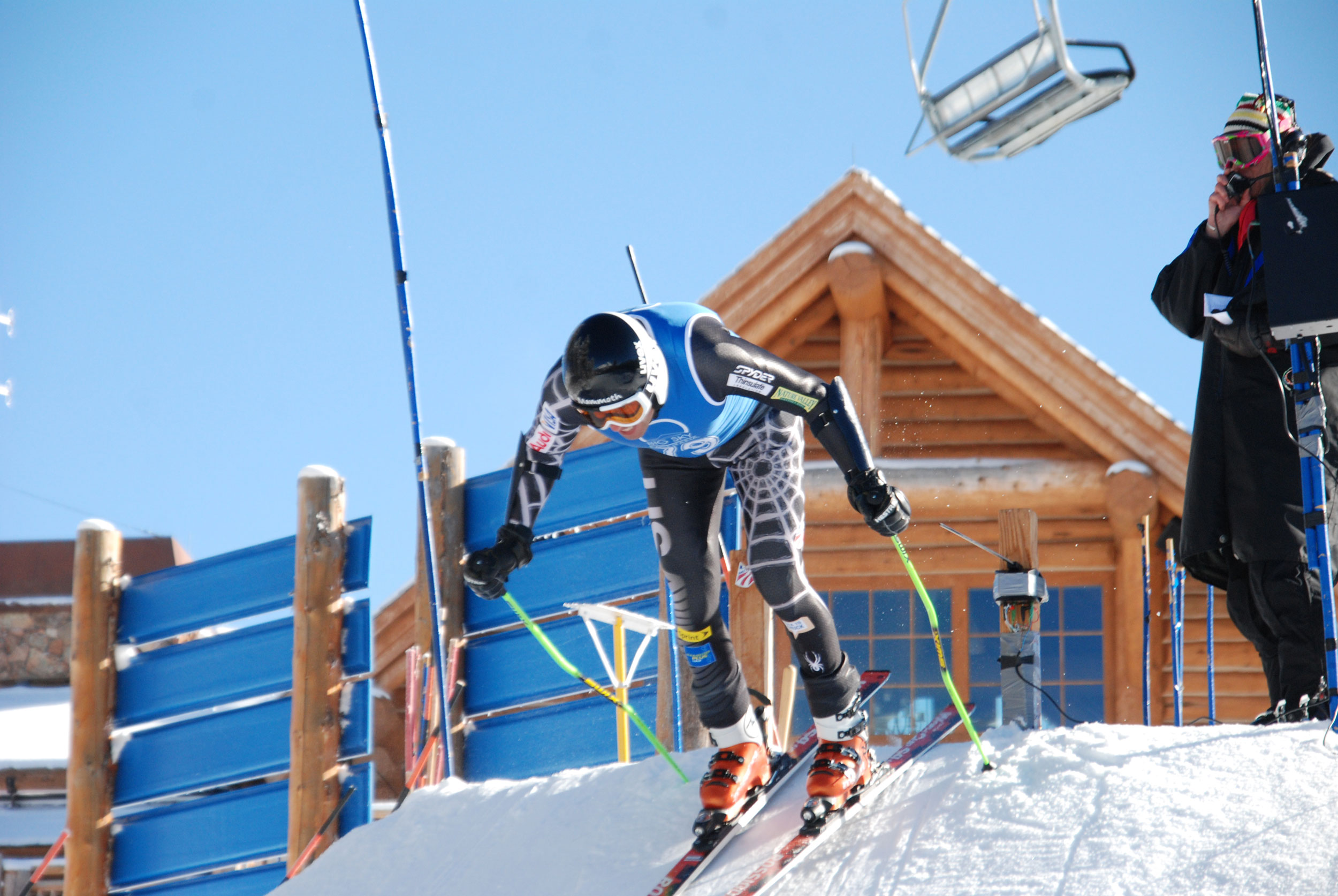 1. Get fit
Going fast in speed events starts well before the winter. As with other ski racing disciplines, having a strong core and legs are key. The more fit you are, the faster speeds you can handle. In addition to strength training, work on your flexibility. Athletes, especially men, tend to get stiffer with age. Super G requires supple joints to absorb the higher vibrations in high-speed turns, and a loose back and hips to maintain an aerodynamic tuck.
2. Get the right skis
Before every speed event, there's endless conversation about what length skis to use. Most masters super Gs are set to accommodate people racing on GS skis, but if you really want to go faster, you'll need a true super G ski — 195 centimeters to 200 cm for women and 205 cm to 210 cm for men, depending on your weight and ability level. The extra length gives more stability as your speed picks up, so you'll feel more confident on a course. Avoid the new, straighter FIS sidecuts (40-plus meters). Go with a soft ski with a radius of around 33 meters if you can find them. They'll be much easier to turn.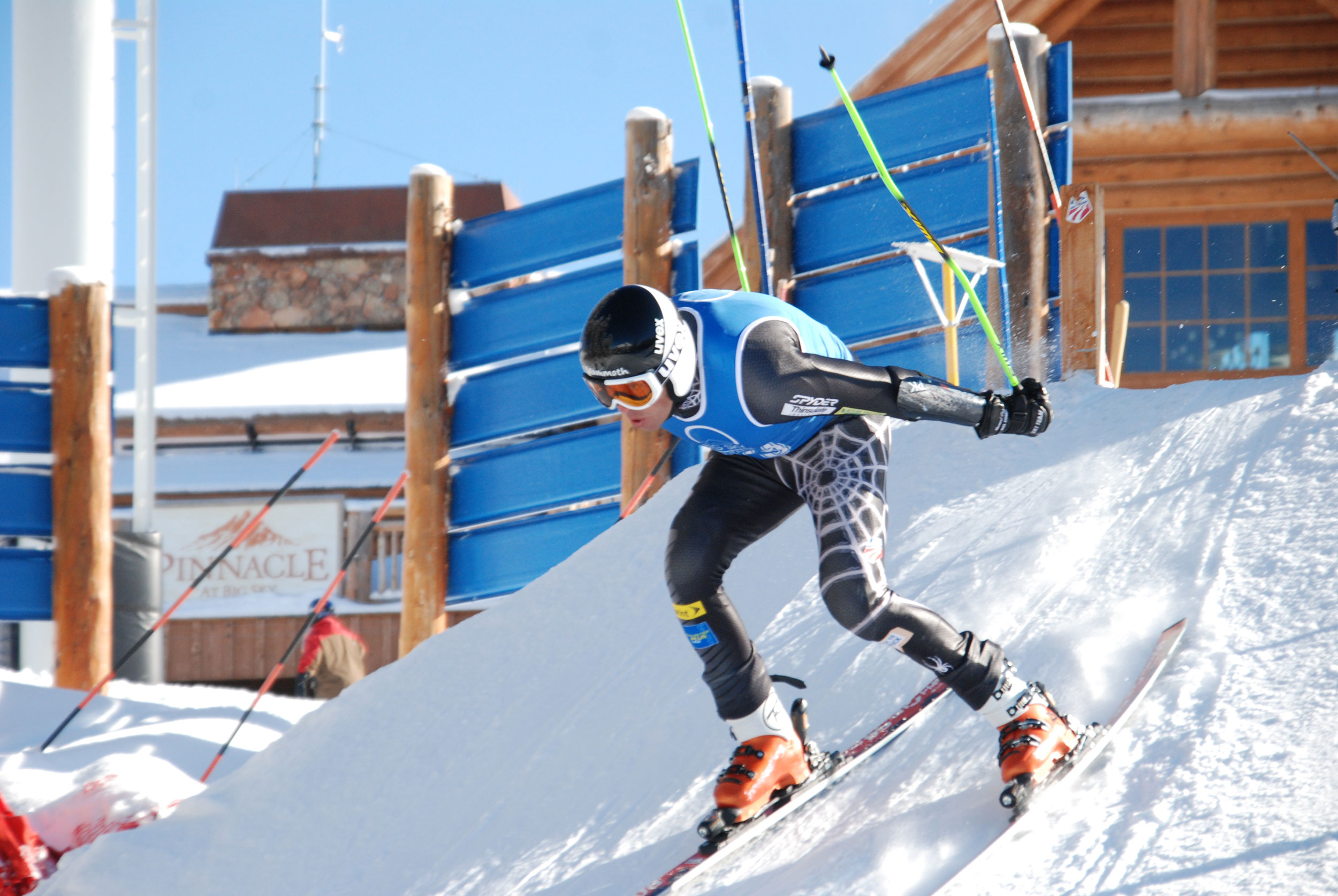 3. Wax your skis — a lot!
The more wax you put in your bases, the faster you'll go, period. If your speed skis are new, impregnate them with a soft (warm) wax. Scrape and then re-wax at least a half-dozen times before your first race, even if you don't ski on them between each waxing.
4. Ski on your skis — a lot!
Speed skis feel über-long compared to shorter GS and slalom skis, but they become less and less awkward the more time you spend on them. When you put on your long boards, remember they take more effort to apply tip pressure at the top of every turn and more patience to bring them around. In a course, you need to adjust your line accordingly, higher on the hill.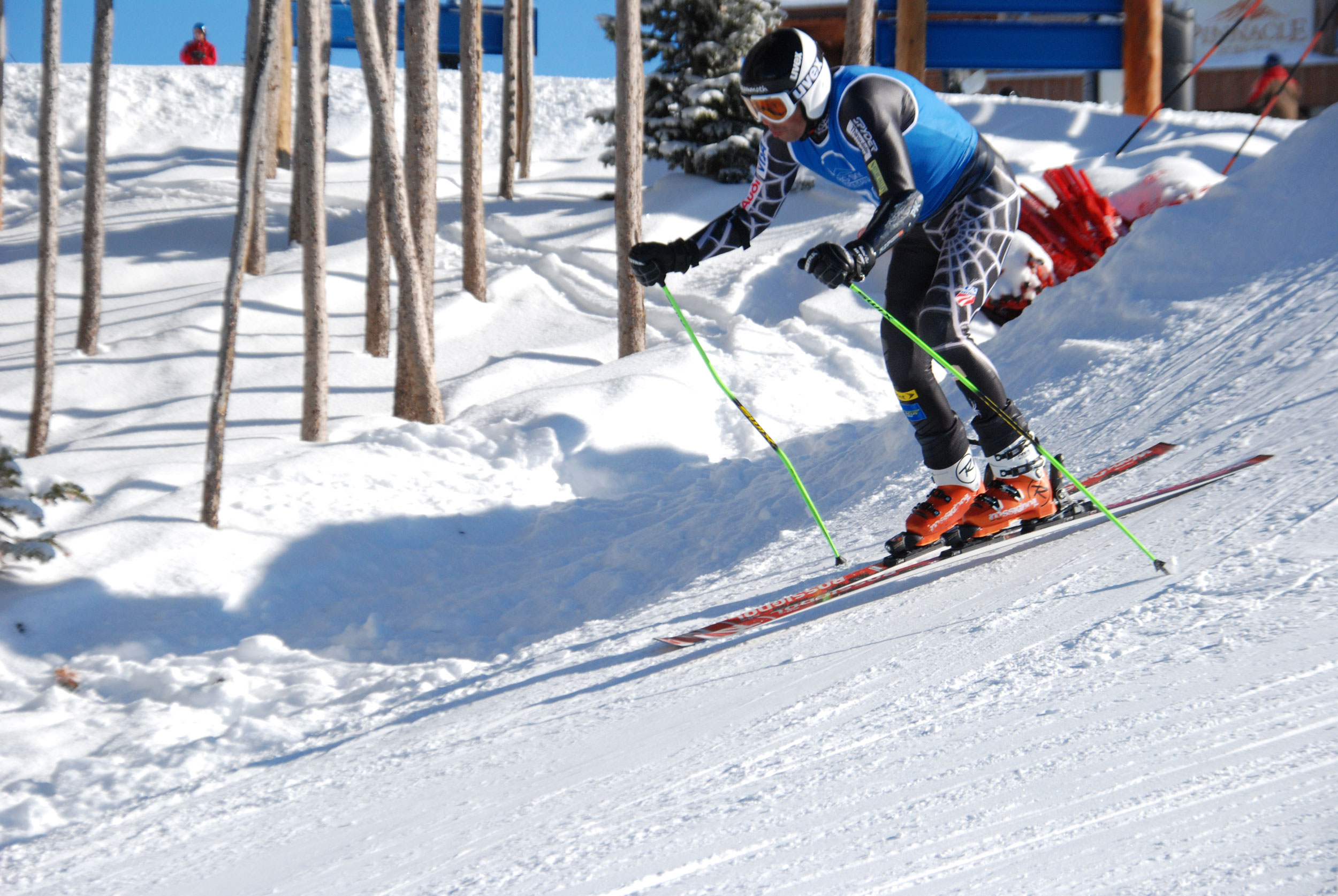 5. Start wisely
To avoid catching an edge between the start and the first gate, simplify your starting technique. Take one or two big pushes out of the start, and perhaps one or two skating steps, then drop into your tuck, or start your first turn, depending on where the first gate is.
6. Know when to tuck
Most masters racers (and juniors) either over-tuck or under-tuck in super G. Fight for your tuck as much as possible, but if you feel your skis skid at all, don't tuck! A clean, carved turn is always faster than skidded tuck turn.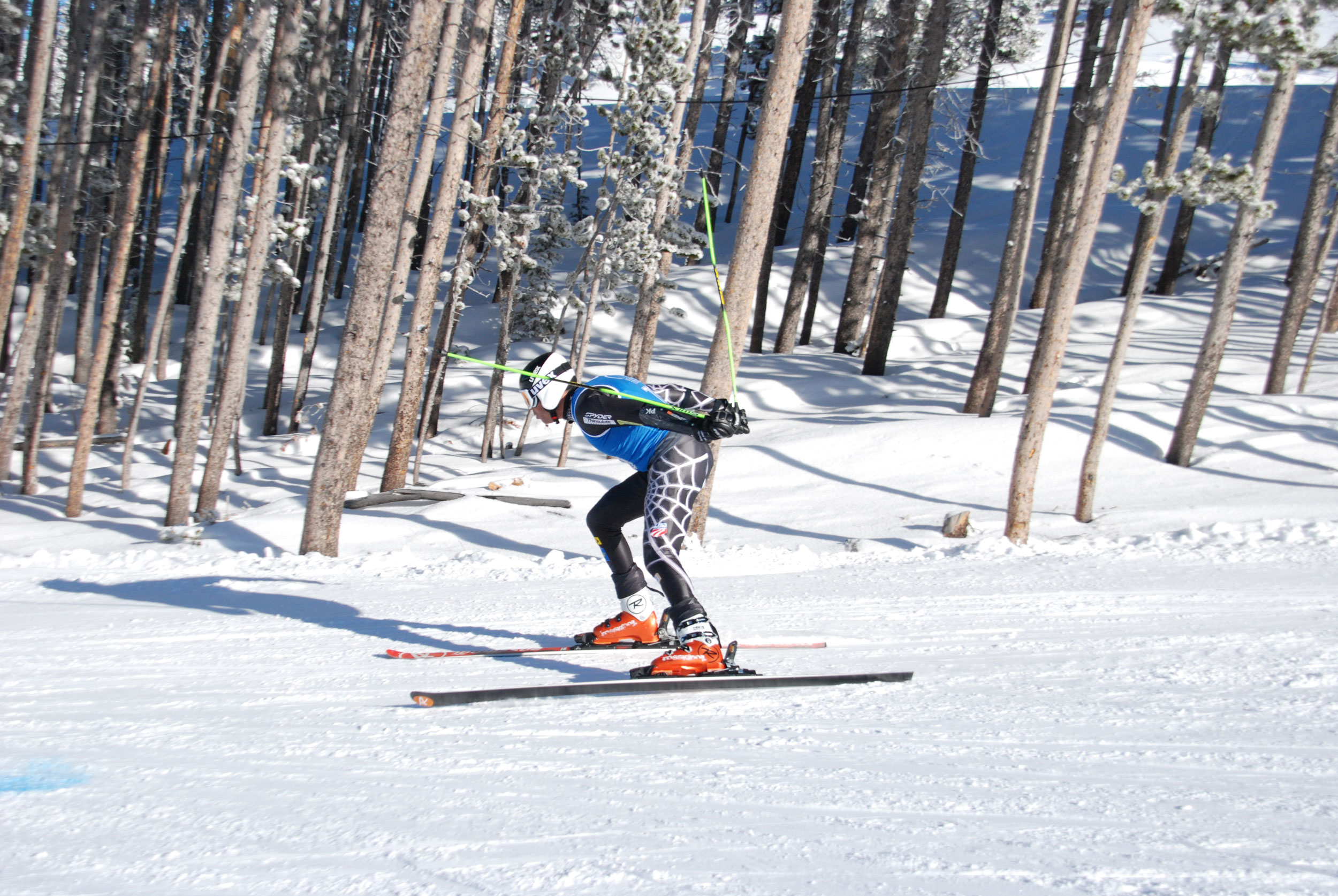 7. Tuck more aerodynamically
Your feet should be under your shoulders. If they're too wide, in a straight section of the course, you'll glide on your inside edges, which is slower than on flat skis. At faster speeds, you'll know you're skis are flat on the snow if they feel like they're floating. It's not as secure a feeling as being on your inside edges, which many racers do unknowingly. If you're strong physically, you'll handle the "float" better. Check your hands, too. They should be together in front of your face, not dropped by your knees.
8. See the line
One of the toughest parts of super G is judging the line through a gate because you don't know exactly how fast you'll be traveling. The key is to look not only at the placement of the gates on the slope, but also at the terrain. A small roll or a fall-away gate can have a big impact on how well your run goes.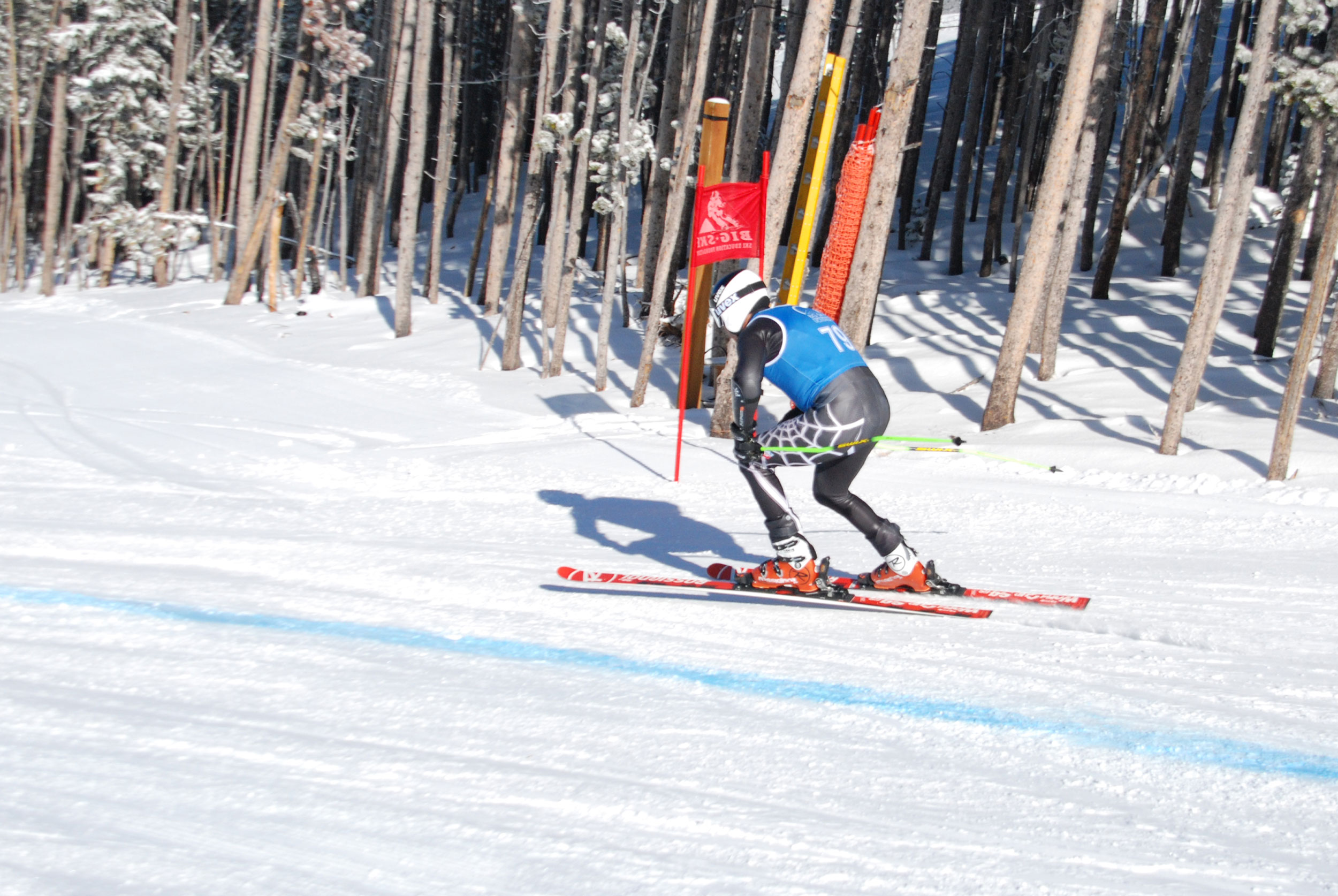 9. Let 'em run!
While self-preservation is wise, many masters racers tend to ski an overly conservative line in super G. Try to keep your skis in the fall-line, running down the hill as much as possible without going too straight at the gates. (You still need to make good turns and maintain a good line.) If you look for speed, pressing forward with your hands and keeping your weight forward, driving down the hill both mentally and physically, you'll be faster.
10. Finish fast
Always look for the straightest line between the last gate and the finish, which might not be across the middle of the finish line. Lots of masters racers make an extra turn, losing up to a half-second at the very end of their run.