A plethora of missed gates characterized the second and final downhill training run in Saalbach, Austria, which will host its first World Cup in over a decade on the Schneekristall track Saturday. The men most recently raced downhill in Saalbach in 1994. 
It could be shaping up to be a good weekend for the Austrians who enjoyed training on the slope prior to the moratorium that went into effect last week. Max Franz, who finished the opening training run second, again put down a strong performance finishing with the leading time of 1 minute, 49.41 seconds — and making all the gates. He was followed a half-second back by teammate Georg Streitberger, who also skied a legit run. Matthias Mayer rounded out the top three but failed to make at least one gate.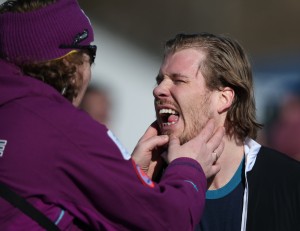 Thursday's training leader Kjetil Jansrud, vying to remain relevant in the overall chase, finished his run near the back of the pack more than six seconds out, but not without a story to share; he reportedly knocked out one of his teeth during the run. Meanwhile, Marco Sullivan had the leading result for the Americans in sixth place but was also designated as one of the 17 who missed gates.
The main characteristics of the hill are multiple jumps and an abundance of sharp, interesting terrain, as well as an Audi that has been built into the final jump. Athletes take off on what from the top seems like a regular downhill jump only to fly over the car and land some 60 meters downhill.
After testing the jump in the first training run and feeling comfortable on it, Frenchman Adrien Theaux showed some classic freestyle skills, pulling a spread eagle and thrilling the crowd. It's not a move he is likely to pull on race day, but it certainly made for a great introduction to the weekend's competitions.
Read more about what the U.S. coaching staff had to say about the Saalbach course here.
Results