Performance and Participation
While the podium performance at World Cup, Olympics and World Championships of the United States' top athletes is extraordinary, one doesn't need to look far to see problems lurking. Several disciplines in each gender have pockets of strength while others show weakness. There is a broad lack of depth throughout the sport pipeline as evidenced in world age rankings. Competitive colleges are filling their rosters with foreign competitors due to the lack of available "home grown" talent. Competitiveness in important benchmarking events such as the World Junior Championships is off the pace from 10 years ago when most of today's stars were developing.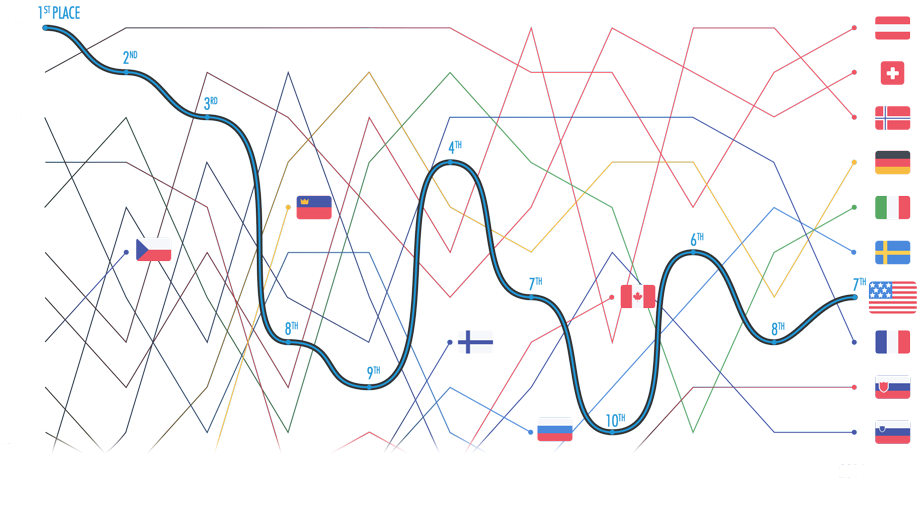 Benchmarking opportunities against the world in Children's (U16 and U14) competitions have become more limited since Shiffrin's domination of Topolino in 2010. If it's true that you won't improve what you don't measure, a return to compete as a nation in some of these Children's competitions should be considered. It seems clear that performance at this level is not consistently a predictor of individual success but can be an important indicator and driver of overall program strength.
Participation has seen a decline in numbers at the older junior ages. A hoped for benefit of the age change to retain skiers may have had that effect for one additional year but appears to have created even more dropout in the transition to the U18 age group. FIS race fields are rarely filled and appropriate USSA-sanctioned events either don't exist in some regions, or are not well attended by U18 and older athletes who are focused on FIS racing and disadvantaged due to equipment regulations.
| | | | |
| --- | --- | --- | --- |
| SEASON | WOMEN | MEN | TOTAL |
| 2005 | 740 | 1103 | 1843 |
| 2006 | 831 | 1212 | 2043 |
| 2007 | 877 | 1266 | 2143 |
| 2008 | 981 | 1365 | 2346 |
| 2009 | 948 | 1355 | 2303 |
| 2010 | 886 | 1239 | 2125 |
| 2011 | 869 | 1224 | 2093 |
| 2012 | 878 | 1238 | 2116 |
| 2013 | 640 | 875 | 1515 |
| 2014 | 610 | 849 | 1459 |
Provided by Jeff Weinman of USSA
At the grassroots level, increased demands, travel, academic sacrifices, equipment requirements and professionalization of youth sports are all conspiring to drive up the cost (expense, time and opportunity cost), reduce accessibility and take the play, fun and recreation out of our sport.
Once an athlete turns 16 the only real option for many is FIS racing. Some years ago, qualifying for FIS competition was a notable achievement on its own. Today the requirement to enter a FIS race is often just being age eligible. When FIS races are not available in the home region, few obstacles exist to traveling out of region or internationally to compete. This creates an environment where the choice to continue ski racing as a U18 is either "All in" or "Out". There is little left in-between. It was not that long ago that many more ski racers competed primarily in local USSA-sanctioned races through their high school years having an accessible and fulfilling ski racing experience while gaining valuable life lessons and learning a love of sport and healthy lifestyles. Only those qualified pursued a highly competitive and intensive athletic program.
Cost has increasingly become an issue in the United States at all levels with all but A Team members being required to contribute towards the expense of being trained and managed by USSA. By comparison, many nations provide salaries to their top athletes to help them with living costs while they pursue sport at the highest level. In a nation such as Canada which also requires many athletes to pay team fees, "carded" national team athletes identified as either performing at a high level or with potential, receive tax-exempt stipends which can be used to offset living costs.
While the resources offered by USSA are better than ever and truly world class, the realization of athletes and their parents of the costs as they advance has resulted in more athletes targeting a college career than dreaming of a spot on the U.S. Ski Team and Olympic gold. Whether dreaming of a World Cup or NCAA career, the reality is there is little difference in the path that must be followed to arrive there.
For several years, college coaches from top NCAA programs have observed that the standard to make their teams is higher than that to make the entry levels of our national team. In fact, the path that most European, Canadian and Scandinavian skiers take to our NCAA schools leads through their respective national teams and often the World Cup or Europa Cup. Making colleges attractive is that athletes receive both education and financial support for their athletics. Conversely, the first years in national team programs are often more expensive than the clubs and academies from which the athletes have advanced.
The "All in" option is absolutely necessary for the handful of athletes who are on track and wish to compete in college or as members of the U.S. Ski Team. A significant commitment to the sport is required. Equipment for multiple disciplines, year-round skiing and conditioning, national and international competition are all necessary to be competitive and maximize potential. What is critical for that handful is neither necessary nor desirable for many who currently pursue the same program.
The chasm that has developed between the top performers and top development athletes has become so wide that fewer are able to bridge the gap on their own. For the very small group of top performing athletes we may not be providing enough opportunity and support, from the majority we are likely expecting too much commitment.
We are not hitting the mark at either end of the spectrum; developing our top athletes or creating an appropriate sport experience for all participants.
Clubs point to a lack of support from USSA or meddling in their domain of athlete development. The national staff points to a lack of fundamental skills, insufficient conditioning and not enough good athletes in the pipeline. In truth, the primary responsibility falls not on the athletes. It falls squarely on the shoulders of those of us who are working daily with the athletes in our clubs and academies. It's those of us who have driven the rules, calendars and programs at the local, regional and national level who have created a system that could easily be regarded as broken.
To say that our sport is in crisis today is not overly dramatic. Ski racing is at a crossroads. The actions we take in the next few months and years will determine if we become irrelevant as a sport only for those with means and a full commitment or broadly accessible to everyone. It will be determined whether we remain a nation highly competitive for Olympic and World Championship medals or return to an earlier time of occasional champions who succeed in spite of the system, rather than because of it.
Next month: An analysis of what has led us to the challenges we face.