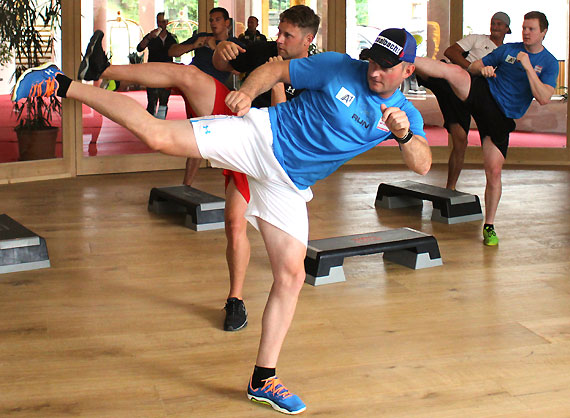 The Austrian men's speed team, under the direction of coach Florian Winkler, completed a strength and endurance training block at Biohotel Stanglwirt in Going earlier this week.
Frederic Berthold, Florian Scheiber, Mark Duerager, Otmar Striedinger, Georg Streitberger, Romed Baumann, Joachim Puchner and Max Franz were challenged in a two-hour step aerobics class including dance components to complement their work in the weight room.
"For me, the aerobic exercise session was not a problem. Compared to Georg [Streitberger] my performance was extremely good," said Baumann. "Such training is important as a balance to the strength and conditioning blocks. Having fun at this stage of the preparation cannot be neglected."
The rhythmically-challenged Streitberger defended his performance in the aerobics class.
"In recent days, we have been in the weight room more and on the bike. Fortunately, there's also those workouts since the rhythm has not always suited me. But in the end, I'm happy with my 'dance performance'. "
"The conditions in the Stanglwirt are simply amazing," remarked their coach, Florian Winkler. "We feel very comfortable here and the guys can concentrate exclusively on the training. At the end of July we will meet again at a training course in Obertauern and then the first on-snow training course in early August on the Stelvio Pass. "
Release courtesy of OSV