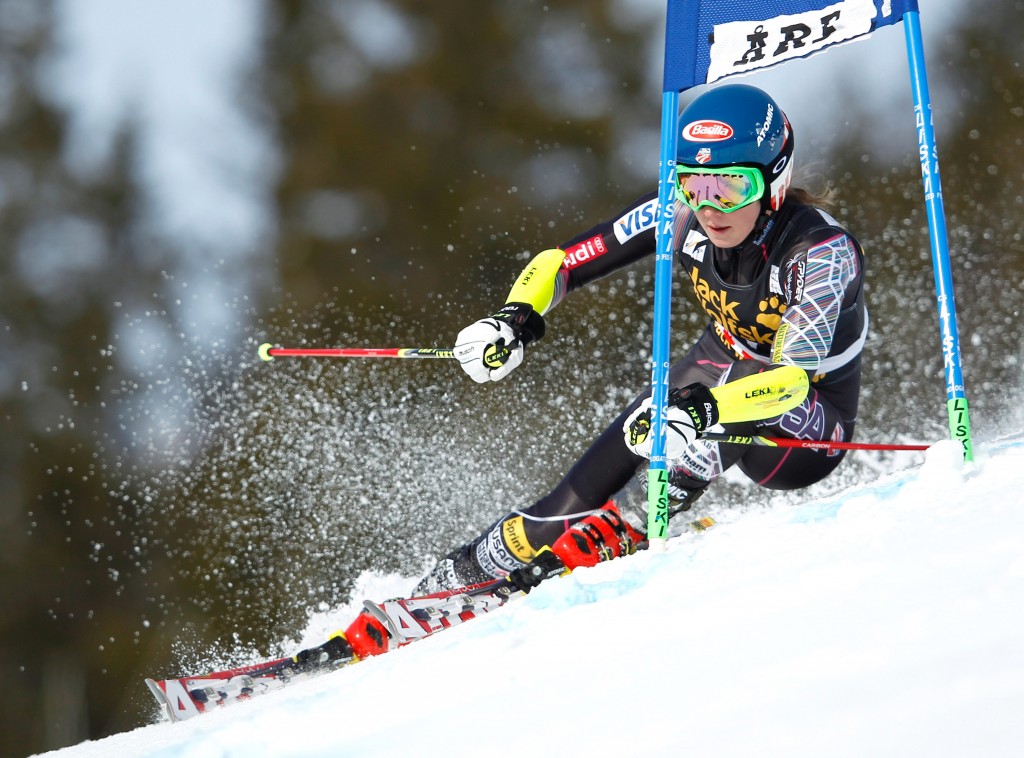 A World Championship and Olympic gold medal, two slalom season titles and nine World Cup victories in the three seasons she has competed on the World Cup circuit are impressive achievements by themselves. But when you know that most of those celebrations occurred before Mikaela Shiffrin's 19th birthday, you know we are talking about an athlete in a league of her own.
Between skiing, dryland, and naps, it's hard to figure out when she might have time for all the extra media and sponsor demands which have come with her success, but she doesn't seem to neglect that aspect of her achievements. Shiffrin spoke with FIS Alpine to give fans a glimpse into her life, showing how her outstanding results didn't happen by chance or overnight and are nothing but a combination of the unique talent and hard work she has put in over the years.
Let's start at the very beginning, tell us more on how you grew up?
I grew up in Vail for the first seven years of my life, then we moved to New Hampshire for five years and eventually came back to Colorado when I was 12. However, I continued my high school education at a boarding school in Vermont (Burke Mountain Academy) where I graduated. I had a very happy and active life growing up where my parents exposed me to many different experiences – from windsurfing in Maui, to hiking, mountain biking, dirt biking, tennis, music, art, travel and many other things. I was always very active, happy and I loved school and sports and doing things with my family.
Do you have time to enjoy your youth and are you afraid you might be missing something?
I have as much of a youth as I want. I have time to see movies and go to dinner with my friends. But I'd rather have a quiet night at my house with my family then do anything most kids my age do. I cherish my time to myself. I'm not afraid that I'm missing anything. This is what I know, and I think my life is pretty amazing, even though it's busy.
You grew up in Vail. What do you love about coming home?
I love spending time in Vail because even though it is a major ski town, there are so many fun things to do in the summer. You can bike, hike, play soccer, tennis, paddle boarding, kayaking, anything really. It's great place to live for active people. My favorite place is probably at the start house at the top of the race hill. That's where my journey as a ski racer began.
Do you have a favorite place for hiking/cycling /swimming in the summertime?
I have this running path that goes along the river, it's covered by a canopy of trees so even when it's hot and sunny it's the perfect temperature. It's so pretty and serene it makes me feel balanced.
In which way has your life changed since your victory in the Olympic Games?
Mostly I just have a bigger fan base now. More people care what I say or do, but there hasn't been too much yet. I've had a bit of a break from the hype of the Olympics.
Did you treat yourself to something special after your victory in the Olympic Games?
By the time I actually came home after Sochi, it was a month later and a lot of the excitement had died down. I didn't feel the need to celebrate or do something particularly special. Winning just makes me want to win more, and the only way to do that is keep working.
Skiing takes you away from home for most of the year, do you ever get homesick and how do you deal with it?
I felt homesick right after the slalom in Sochi. During one of the interviews I watched my families' reaction (back in Massachusetts) to my winning run. It made me so happy to see their excitement, but also a little sad, because even though I had to be in Sochi in order to win the medal, I wished I could have been there with them to scream and hug and laugh and cry. It helps me when I remind myself that no matter how lonely I might feel when it is just me on the mountain, it is the most peaceful place in the world. There is no drama, only me flying between the gates.
With your successes your obligations grew as well, how do you juggle your busy schedule?
I have a lot on my plate these days. I have my routine of skiing and/or dryland, as well as meeting my obligations to sponsors, media, USSA and USOC. And while it's fun to be busy, but in order to juggle all of this, I have to manage my time wisely. In general I tend to stay very active — I mix things up a lot so I don't get overuse injuries but my activities include some sort of daily (usually twice a day) workouts — tennis, lifting at the Riverfront Athletic Club where they have built a special "Mikaela corner" for me, mountain biking, hiking a bit if I have time to squeeze it in, running, roller blading in my neighborhood, soccer drills for agility, and a little bit of swimming in the summer. I also took the SATs in June, and I may start taking some summer college courses.
How many hours a day do you spend training?
Normally I spend up to five hours on the ski hill training or between five and six hours working out in the off-season.
Do you ever give yourself a break from all these activities?
One thing I think is really important – taking a little down time everyday for a mid day rest. It's one of my "big" secrets that isn't really a secret since I'm always telling everyone how important it for me to take naps after my morning workouts/training sessions so I have the energy to have a quality afternoon workout. I also try to eat really well all the time, but especially while I am home and my meals are in my control.
You are seen as a great inspiration for other athletes, kids and adults. What do you think inspires them the most?
I guess the best way to pinpoint whatever effect I have on other people is to highlight my youth, because I think that has given me a better connection with young athletes. They see me more as a companion than anything else. I never want people to feel like I am unreachable, because then the inspiration dies.
The next World Championships will take place at home for you, what are your hopes for it?
I hope to defend my slalom title, but mainly I want to represent my hometown with pride and speed.
Who do you consider as your strongest competitor?
I don't think there is one strongest competitor. Everybody racing World Cup is fast. They all deserve to be there, and they all are fast enough to win. I can never underestimate anyone.
Do friendships exist in competitive sport?
There are always friendships in competitive sport. I find that my greatest competitors tend to be my greatest friends. Especially at this level, we all just appreciate good skiing.
How important is "the show" in professional sports?
I think it is very important to stay grounded and calm. I don't like when I see racers breaking poles or having a fit on the hill if they ski off the course. If it bothers them that much, they should fix it instead of yell about it. It is also important to show that you care though. So it's necessary to find a balance between hiding and revealing your emotions.
Release courtesy of FIS