OK, so I didn't get to see the Vail/Beaver Creek 2015 World Champs in person. But being stuck back home had its benefits — namely, the Dartmouth Carnival, one of my favorite events of the year.
Ever since racing for Sierra Nevada College myself, I've loved the vibe of college racing. It's fun but intense; team-oriented but still individually rewarding. It's homegrown (think crockpots, tubs of home-baked cookies, painted faces and goofy announcers) and major league (think minimum penalty). My kids love the scene too, and in addition to the fantasies wrought from watching Universal Sports, Carnival Culture has planted in them the seed of a parallel dream — skiing for an NCAA team. As a parent, that's the dream of your own dreams.
I never considered racing college as a kid, because growing up in the West in the 1980s, the world "carnival" only conjured up freaks and side shows. No California schools were in NCAA Division 1, and what dazzled me from the sidelines in Squaw Valley was Tamara McKinney, a World Cup wunderkind with a U.S. Ski Team uniform and the latest cool gear. That's what I wanted to be.
When I finally did run in to college racers at NorAm races, they were really old girls —some even over 20! — who were still fiercely competitive. These fully-formed, self-possessed women were daunting to a 15-year-old rookie. But even if they beat me soundly, I paid little attention. Going to college, we all knew then, was as good as hanging it up, and I wasn't near ready to hang it up. It never occurred to me that those "old girls" might still harbor dreams of racing beyond the NorAm level. And sadly, it probably never occurred to them, at least not that they admitted.
In an eye-blink I, too, was 20, and feeling old on my own team, but still like a rookie on the World Cup. At 21, I started to feel comfortable in that crowd, and started to feel like I could actually settle in to racing instead of constantly trying to qualify and prove that I belonged. By then I was hooked, and, honestly, feeling a little trapped. I wasn't going to be the next Tamara McKinney, but I was the best in the country on good days and still pursuing my ultimate goal. At every low-point along the way my choice felt a bit like playing roulette, putting it all on red and hoping like hell I would walk away in the black, flush with an experience valuable in the game of life.
What if you could invest that wholeheartedly but with decent odds? What if there was a place to go in those years between being a wunderkind and being "old," a place where you could train and improve with a team that had consistent coaching, tough competition and a relaxed environment? And what if, during those years of hard work, you could still hold your dream in full view even while pursuing it at a slower pace, and be offered opportunities to play up every once in a while? College could be that place. Not every college, but there are enough of them in this country to make college racing and the college years themselves a viable part of the development process.
At last months World Champs, a dozen current or former NCAA skiers competed. For a few, competing meant having a passport from a non-skiing country, but most were part of competitive teams including Norway, Canada, Finland, France and the U.S. Notably, none of the U.S. athletes in Vail were current NCAA student athletes. Other countries, however, have figured out how to keep their athletes integrated in their national teams both during and after their time in our collegiate racing system.
Making that work requires competition and cooperation.
Beyond the crockpots and the face painting, Carnival races serve up high-level competition, with top-ranked juniors and former D-team skiers generating minimum point penalties. So many competitive skiers — not only in the same league but often on the same team (hello, Dartmouth women!) — create a productive, supportive training environment. If they can get that level of training, with the dual benefits of a college education and a college athletic budget, all during the critical years of physical and technical maturity, why would they not be a key component to building a U.S. technical team in dire need of reconstruction?
On one hand, it's heartening that our national team includes athletes such as David Chodunsky on the other side of college. That's a step. A concurrent parallel step should be embracing that same possibility with women. Even as their retirement age keeps creeping up, no American women have yet been encouraged to compete after college.
Once everyone is cozy with the idea of older athletes, male and female, being viable and worthy of attention, the challenge is to integrate these athletes throughout the college years, or at the very least to communicate that they are still eligible to earn elite opportunities. Even the notion of being viewed as potential assets rather than as a rebels would drastically change the attitude that college athletes bring towards their commitment.
For every Shiffrin and McKinney prodigy, there are many, many more great athletes who are still recognizing their potential well beyond their teens. Certainly not every wildly talented junior racer is going to make it through the trenches, but merit-based movement back and forth through the ranks should be fluid and expected. College, rather than being a step-down program, can be a solid step on the development ladder.
I know it's not easy. It requires flexibility from all sides and, I am quite sure, a lot of coffee. But other countries are figuring it out, so we can too. I know that in theory the U.S. Ski Team is open to college athletes. I hope that it is more than lip service, that tolerance becomes integration and actual outreach. And to the first woman who races on the U.S. Ski Team after college, the lattes are on me!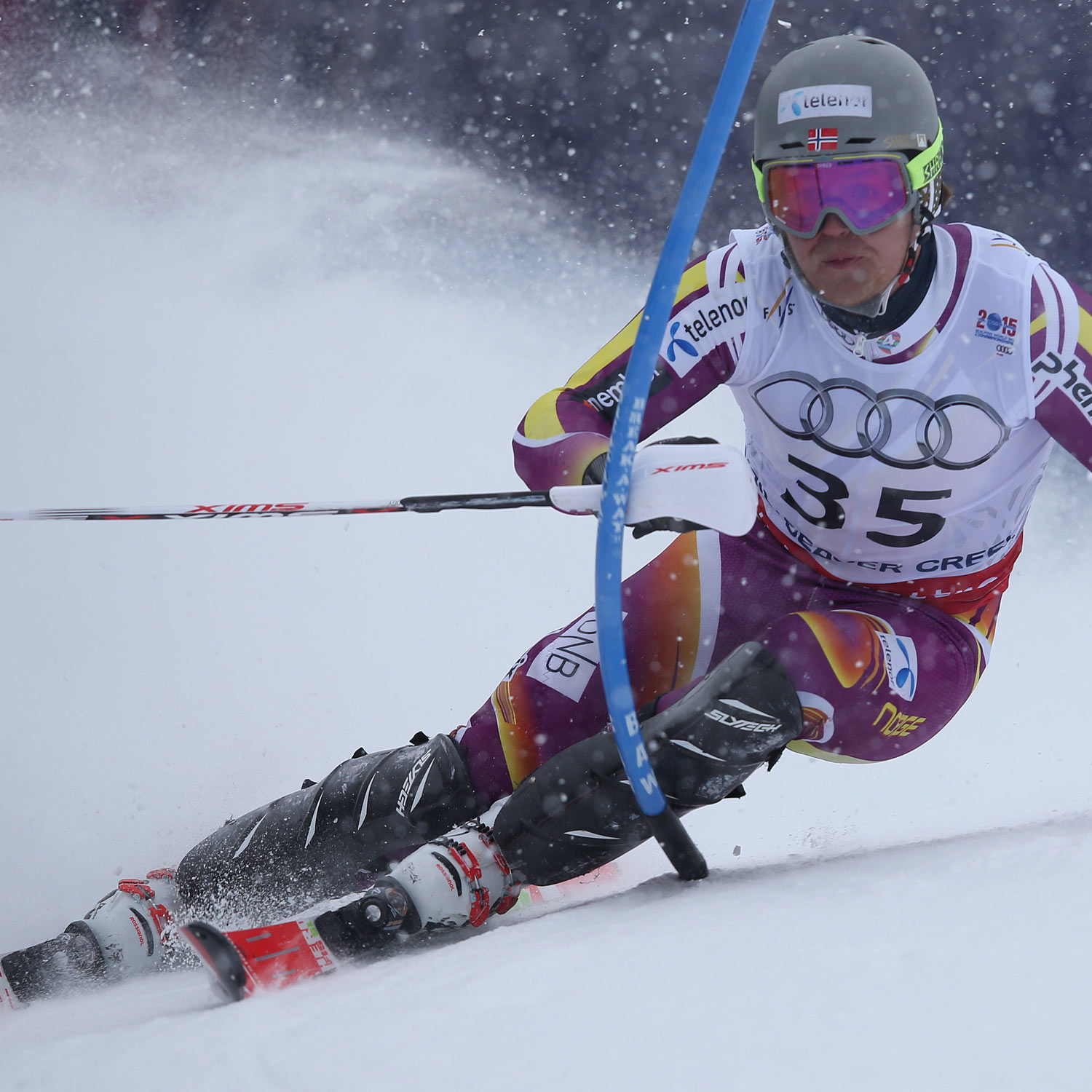 Other countries are figuring out the flexibility to race in college and on the World Cup and World Champs level. GEPA
Which College Racers Competed at World Champs?
CURRENT NCAA ATHLETES
Espen Lysdahl, Norway/Denver University (DU)
Erik Read, Canada/DU
Trevor Philp, Canada/DU
Sebastian Brigovic, Croatia/DU
Kristina Rove, Finland/University of Utah (UU)
Dominic Demschar, Australia/UU
Warren Cummings Smith, Estonia/Dartmouth
FORMER NCAA ATHLETES
Tim Kelley, USA/UVM
Jonathan Nordbotten, Norway/UVM '14
David Chodounsky, USA/Dartmouth '08
Leif Kristian Haugen, Norway/DU '12
Joonas Rasanen, Finland/University of New Mexico